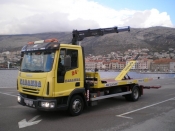 Towing service Karamba
Tow truck Karamba is a transportation company founded in 1997. year. Its core business is transportation of all types of motor vehicles.
After many years of work we have expanded activities: car rental, service, tire service, taxi, apartments.

We have superior technology that meets international standards.

Quickly and efficiently operate at removing, pulling, lifting, transportation, disposal and maintenance of all types of motor vehicles.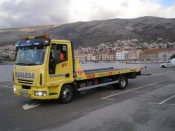 Reliable Partner
Years of experience in this industry has made since our company a reliable and trusted partner and the parties to the very beginnings of the company Karamba found a strategic partner who honestly and conscientiously perform all the tasks.

Dedication, professionalism, respect for deadlines, well-maintained and adequately equipped vehicles, guarantee the safe and successful completion of all assignments, an important factor for the future.